After a long weekend of thankfulness, football, and shopping, we are back to school and work. However, in-store and online deals are far from over! Cyber Monday deals are bigger and better than what we saw over the weekend, and I for one have quite a few things left on my list. As I buy for myself and others, I often forget to look for deals on everyday household items. This year, I've decided it is time to trade in my old electric toothbrush for a newer, cooler model. Amazon Prime is my go to for all cyber deals, and I am not disappointed by the discounts on electric toothbrushes today! As you shop around, consider upgrading your toothbrush while the deals are active.
Electric Toothbrushes Keep Your Mouth Healthier
"Studies have shown that electric toothbrushes do a better job of cleaning your mouth and removing plaque and gingivitis." (Insert Jefferson). Bristles on manual toothbrushes don't reach all the crevices in your mouth, so you are enabling bacteria and plaque to multiply. Electric toothbrushes have rotating heads that apply pressure and motion to each tooth. "Most electric toothbrushes have bristle heads that move between 10 and 30 thousand revolutions per minute.  The average person wouldn't ever be able to get anywhere close to that sort of speed, showing a clear advantage over normal brushes." (Insert https://greenspointdental.com/buy-electric-toothbrush/). Most manual brushers unintentionally brush one side of their mouth better than the other. But with an electric brush, you won't give special treatment either side. Automatic, equal pressure offers each tooth a thorough cleaning.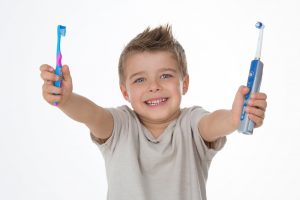 Who Doesn't Love a Built-in Timer?
Electric toothbrushes are more fun to use because they have a built-in timer, and sometimes they even play music. Children will get a kick out of a toothbrush that sings to them while the clock counts down.  And, a built-in timer means you have one less thing to worry about as you race against the clock to get to work on time. Turn the brush on and let it do it's work while you think about everything else you have to do! This feature, combined with the rotating head, allows you to brush longer and more efficiently without even thinking about it.
Options
When you walk up the toothbrush aisle in a grocery store, you are barraged with tons of manual toothbrush options. There are different bristles, different handles, different brands, different colors. The same is true with electric toothbrushes. Some have LCD screens, some make noise, etc.. You should research your options and find the toothbrush that will do the most for you. A few varieties include sonic toothbrushes, vibrating brushes, and oscillation-rotation brushes. "Sonic toothbrushes use ultrasonic waves to clean teeth, ranging from 9,000 to 40,000 strokes per minute. For comparison, manual toothbrushes usually take about 300 strokes per minute." (Insert https://greenspointdental.com/are-electric-toothbrushes-for-me/)
Vibrating brush heads still require the brushing motion you make with a manual brush, but provide a deeper clean. Oscillating brushes do all the work for you, all you do is place the brush on a tooth and press "On".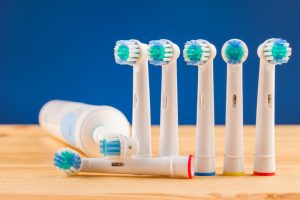 Minimal Cons
Manual toothbrushes need almost no maintenance because they go straight from your mouth into the container by the sink. An electric toothbrush needs more maintenance because you have to keep it powered. In the age of electronics, we are familiar with charging cables of all shapes and sizes. So what is one more? You'll either need to charge your toothbrush periodically or choose a battery operated variety. When you consider all the other items you regularly charge, this seems like less of a con and more a fact of life. The biggest con is that manual toothbrushes are easier to travel with. If this is the case for you, consider getting a manual brush to take with you on trips, and leave the electric brush at home. A few days without the electric toothbrush is an ok trade-off if you use it all other times!
No matter what brush you decide to go with, make sure you are choosing something that you will actually use. These brushes are meant not only to keep your teeth healthier but also to make your life easier. Shop around today and see what deals you can find today, you can always justify a purchase that will improve your health!