We've all seen celebrities with exceptionally-white, picture-perfect teeth. You may be wondering; how do their teeth look so flawless? The fact of the matter is; most people's teeth don't naturally look like that. Whether you are in the market for veneers to correct overall wear and tear, discoloration, stains, or misshapen teeth, veneers can drastically improve the look and feel of your smile. There are many reasons to consider cosmetic dentistry. Dental veneers are a one-stop shop for a variety of dental issues.
What Are Veneers?
What exactly are Veneers? WebMD describes "Dental veneers (sometimes called porcelain veneers or dental porcelain laminates) as wafer-thin, custom-made shells of tooth-colored materials designed to cover the front surface of teeth to improve your appearance. These shells are bonded to the front of the teeth changing their color, shape, size, or length."  Veneers improve the look and feel of teeth while also protecting the tooth from additional erosion or damage.
Different Types OF VenEERS
Porcelain Veneers are generally considered the premium option. They are made up of a porcelain material that protects your natural teeth and are custom-designed for your unique needs. They mimic the look and feel of natural teeth seamlessly, and typically last up to 15 years. They are also resistant to staining and extremely durable in nature; however, they are the most expensive type of veneer on the market and typically take two visits to apply.
Composite Veneers are another viable option. They are made up of the same material used in fillings and are generally cheaper than porcelain veneers; however, they don't usually last as long and often appear duller. Composite veneers are sculpted at your dentist's office and can be applied in a single appointment.
When selecting the right type of veneer for you, consider the following:
Your personal budget

Longevity

Ease of application

Look and feel

Preservation of natural teeth
Cost of veneers
Let's face it, veneers can be expensive. However, when considering the cost of braces and other dental procedures, many see them as a worthwhile investment. They typically cost between $500-$2,000 per tooth. The cost of veneers depends on the material type, the number needed, and the specific dentist's office. When deciding whether this investment is right for you, consider their longevity, low maintenance requirements, and immediate results.They are typically considered a purely cosmetic procedure, but in some instances insurance may help to cover the costs.
How long do they last?
Veneers usually last between 7-15 years, depending on the materials they are made out of. After this time period, they will need to be replaced, in-office, by a dentist.
Are veneers right for me?
Veneers are a great choice for people with discolored teeth, chipped teeth, or gaps between teeth. They are a long-lasting, immediate, and effective way to improve the appearance of your smile. Because veneers are placed over existing teeth, people with a history of dental problems such as tooth decay or gingivitis are not prime candidates for veneers. Additionally, veneers are not recommended for people who have a history of frequent grinding of the teeth as this can dislodge or damage veneers bringing about costly and painful problems.  
Veneer Aftercare: Make the Most of Your Investment
Veneers require no special care or additions to your regular oral hygiene routine. As always, dentists recommend:
Brushing veneers/teeth twice daily.

Flossing regularly and thoroughly.

Regularly going to dental checkups.

Wearing mouthguards during sports, sleep, or anytime you'd be at risk for chipping a tooth.

Avoiding foods that stain teeth such as red wine, coffee, and tea.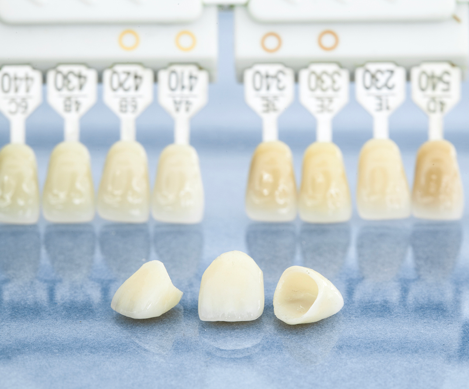 You'd be amazed at how much this simple procedure can improve your confidence and overall quality of life. By improving the appearance of your smile, you'll feel more attractive and self-assured in virtually any situation. Whether you are walking down the street, presenting in your weekly Zoom meeting, or even ordering your regular cappuccino at the local coffee shop, Greenspoint has got you covered. Just ask the people whose smiles we've already transformed.
If you are still on the fence about whether veneers are right for you, reach out to our friendly team of professionals at Greenspoint Dental in North Houston, Texas. We are here to answer any additional questions you may have. If you are ready for a whiter and more beautiful smile, schedule your consultation at Greenspoint Dental today!