Greenspoint Dental is running a back-to-school special, giving away backpacks filled with school supplies to school-aged patients.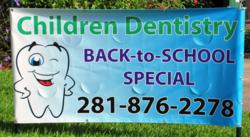 The promotional sign running outside Greenspoint Dental's office.
HOUSTON, TEXAS, August 20, 2012 —
Greenspoint Dental, a practice of Houston cosmetic dentists, is giving away backpacks filled with school supplies to patients who come in for appointments before the end of the month.
Winners are chosen through a drawing of the previous week's school-aged patients.
The practice started the giveaway at the end of July to promote the Houston pediatric dentistry focus of the practice's newest dentist, Dr. Kari Blankenship, D.D.S.
"Back to school is an important time to go to the dentist," Dr. Blankenship said. "Oral health affects a child's overall health, so a visit to the dentist for a checkup and teeth cleaning should be a part of every child's back-to-school routine."
The backpacks are filled with generic school supplies, such as notebooks, paper, pens, pencils, markers and a ruler, so as to be helpful to and enjoyed by students of all ages. To win, the patient must be school-aged and have an appointment during the month of August.
About Greenspoint Dental
Greenspoint Dental is a family dental practice that has been operating in Houston for the last 15 years. Dr. Louis Bosse, the lead dentist at Greenspoint Dental, provides general, cosmetic and restorative dentistry to his patients. His associate, Dr. Kari Blankenship, provides dentistry services to patients of all ages, but particularly enjoys working with younger patients.