Dental insurance, unlike its medial counterpart, is a relative newcomer to the market. Up until 1954, people always paid for their dental visits, if you can imagine such a thing. The first dental plans were introduced in California. Following their introduction, dental plans gained popularity and traction through the 1960's. Are you still reading? This is just getting good! The model of prepayment plans was hatched and the industry exploded.
The 70's
During the 1970's, these plans were everywhere. Furthermore, they usually had a maximum benefit of $1000! Sound familiar? That's because those maximums are still in effect today, 40 years later. That's right! While inflation rolled along its merry way, dental coverage dug in its heels and said, "Nah, we're good, right here." Had coverage kept up with the rates of inflation, the average annual maximums would be close to $10,000. Can you even begin to imagine what that kind of coverage could do for our health? Don't spend too much time dreaming, because, sadly, it did not.
Back to the 70's–most of the plans were offered by Delta Dental. Soon, the Preferred Provider Organization (PPO) elbowed its way to the forefront. Many of the existing insurance companies hopped on the PPO bandwagon driving their popularity. PPO's are basically a contracted network of dentists who agree to accept a reduced fee for the insured. Coverage extends to out of network dentists, too with the patient picking up the difference between network and out of network fees.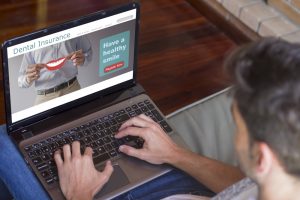 Dental Insurance in the 80's
The roaring 80's saw the birth of the Dental Health Maintenance Organizations (HMO). The HMO's were set up to offer care at a reduced fee with no maximums and no deductibles, as long as the insured saw a participating provider.
Today, the affordable care act requires that health plans include an offer of dental coverage for children up to age 18, although there is no requirement of acceptance. The future of dental insurance is sure to keep evolving! Your dentist has a knowledgeable team who can help you to maximize your benefits.